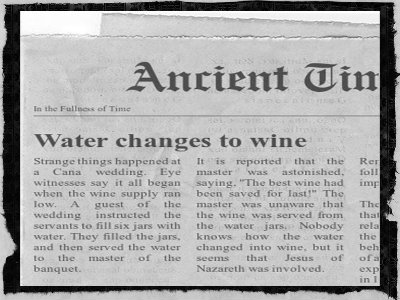 The presidential election looms large on the horizon and along with it comes a thunderous political storm. The news media constantly bombards the nation with waves of public opinion and scandalous headlines, most of which have blurred the line between truth and deception.
So, how did this happen? How did our choice between candidates become mired in ungodly controversy? Honestly, the answers to these questions can only be found in truth.
On Election Day many votes will be based on deceptive news headlines, and if we believe all the media hype, it seems that our only choices for president lie somewhere between criminal or crazy. Maybe it's just me, but it sure feels like we aren't in Kansas anymore... lions, and tigers, and bears, oh my!
Is it possible that things would be different if the majority of our primary votes had been based on the Word of God instead of the sway of public opinion?
With this in mind, I wondered what the political environment was like when Jesus walked the earth? What did the headlines declare as Jesus' influence increased? Is it possible that newspaper sales soared because of headlines like...
Water changes to wine...

Local fishermen abandon nets to follow Jesus...

Crowds gather on the mount to hear a sermon...

Did anyone cast the first stone...

Jesus heals people; crowds increase...

Jesus saves sinking follower...

Jesus angers religious leaders...

Jesus arrested...

Pilate asks Jesus, "What is truth"...

The people choose Barabbas...

Jesus crucified, dies at Golgotha...

Earthquake ravages the area...

Eye witnesses say Jesus is alive...
These headlines would definitely capture the reader's attention, and according to reliable sources every story has eternal value.
Jesus was not a presidential candidate and he certainly wasn't campaigning for a temporary leadership position. The truth? Jesus trumps all leaders. He is King of Kings and Lord of Lords. The eternal purpose behind his public ministry and death are revealed in the final outcome...
God's power defeated death. Jesus rose again and ascended to his eternal throne. Everyone has a choice to make, and Jesus suffered on the cross so that we have freedom to make the choice. Jesus ran a sinless race so that He could win our hearts. His promise of eternal life is not only rock solid, it is major good news to every repentant sinner.
In closing, let me share one more newsworthy headline... Jesus answered, "I am the way and the truth and the life. No one comes to the Father except through me ~ John 14:6.
Even now, this is a radical declaration, but it still remains... truth is truth.
Jesus showed us the path to peace with God. The question is... are we willing to follow? Romans 10:9-10 says, "If you confess with your mouth that Jesus is Lord and believe in your heart that God raised him from the dead, you will be saved. For with the heart one believes and is justified, and with the mouth one confesses and is saved." May all who have ears hear the truth of these words.
Remember this... you are loved, and you are always in my prayers. Please remember to pray for the leaders of our nation.
In Christ, Cheryl
September 2016 Lamplight
Copyright 2016. All rights reserved.