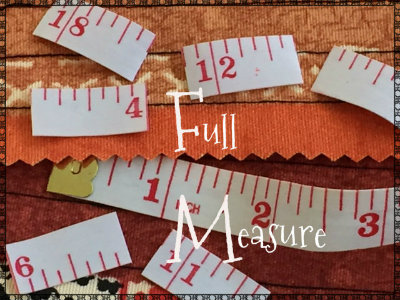 The FBC Seabrook Women's Ministry is having a great time this Fall! We meet on Sunday afternoons at 5:00 pm for a light Bible study, fellowship, and quilting for cancer patients. No worries if you have missed meetings. Come anyway! There is always room for you! My Lamplight article this month highlights the October 22nd Bible study. This week's object lesson stemmed from a tape measure...
2 Peter 1:3-8: His divine power has given us everything we need for a godly life through our knowledge of him who called us by his own glory and goodness. Through these he has given us his very great and precious promises, so that through them you may participate in the divine nature, having escaped the corruption in the world caused by evil desires. For this very reason, make every effort to add to your faith goodness; and to goodness, knowledge; and to knowledge, self-control; and to self-control, perseverance; and to perseverance, godliness; and to godliness, mutual affection; and to mutual affection, love. For if you possess these qualities in increasing measure, they will keep you from being ineffective and unproductive in your knowledge of our Lord Jesus Christ.
During the past few weeks I have shared about my mom's sewing skills. She was, and still is, very talented when it comes to turning raw fabric into something useful. We all have a happy place, and during my younger years, I remember my mom being very happy when she sat in front of her Singer sewing machine.
My mom loves to stitch, and in the height of her sewing career, she somehow managed to sew for her family, friends and the public. Mom made a lot of my wardrobe, and she'd pull out her trusty tape measure every time she began a new garment. Every dress, skirt, shorts, pants, and blouse required my current measurements, but the tape measure was just the beginning. First, she measured me. Then, she laid out patterns, cut fabric, pinned everything together, and called me in for "fittings." Personally, I learned a lot about straight pin torture during these fittings. Especially when the pins poked my armpits!
The crux of the matter is this... every garment made for me required my measurements. Why? Because clothing can't serve its purpose if it doesn't fit right.
Last week we heard Paul implore the Lord in his Ephesians prayer... "that the God of our Lord Jesus Christ, the Father of glory, may give you the Spirit of wisdom and of revelation in the knowledge of him, having the eyes of your hearts enlightened, that you may know what is the hope to which he has called you..." (Ephesians 1:17-18)
In his prayer, we can sense Paul's heartfelt desire for his brothers and sisters in Christ. Paul prays that God, through His Holy Spirit, would provide the wisdom and revelation that enables us to know Him. Paul pleads with the Lord to open our spiritual eyes and to shed light on His individual calling on our lives. In this week's passage we can see a common thread... His divine power has given us everything we need for a godly life through our knowledge of him who called us by his own glory and goodness.
As Christians we "know" Jesus, and because of this God gives us everything... yes EVERYTHING... we need to live a godly life. We see God's precious promises fulfilled through His provision. He gives us the free gift of His Holy Spirit, thus we bear His fruit -- love, joy, peace, patience, kindness, goodness, faithfulness, gentleness, and self-control. ~ (Galatians 5:22-23)
In the midst of everything, we must not overlook the source of the fruit. It is God and only God who provides incorruptible and imperishable fruit. Therefore, we should strive to "possess His divine qualities in increasing measure...
As I said before, this week's Object Lesson was a tape measure, of which everyone in the room received one inch. First, I called attention to the different numbers on each section. Then I noted that every piece was the exact same size -- one inch. As women we tend to measure ourselves against one another. We question if we measure up as a wife, mom, sister, aunt, grandma, friend, co-worker, believer, etc... This constant comparison is a spiritually unhealthy habit that leads us down the destructive path of "Never Measured Up."
But wait! There is good news! As Christians we need not measure ourselves against one another. On the contrary, by giving the Holy Spirit full access to everything we do and say, God increases and we decrease. God has a unique calling for each of us, and the full measure of the Holy Spirit within us helps us to lay hold of all that God has planned for us. For the sake of this lost world we must allow God's Divine Nature to work through us... this and only this will help us to be "effective and productive in our knowledge of our Lord Jesus Christ."
In our flesh we may strive to be like one another, but God wants us to be like His Son. Thankfully He gives us the Full Measure of Himself to help us along, and with His help we will "Always Measure Up."
Remember this... you are loved, and you are always in my prayers.
In Christ, Cheryl
Full Measure
Written by: Cheryl Harrison
Copyright 2017. All rights reserved.