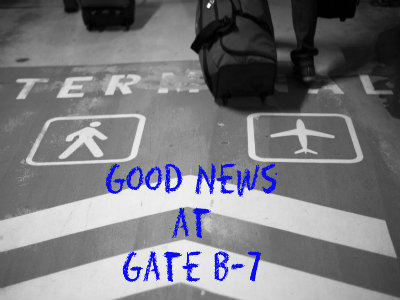 A little over a week ago, I traveled to South Carolina to attend a family funeral. The moments spent with family flew by quickly and before I knew it I was back at the airport awaiting my flight home.
The atmosphere at the crowded airport was far from dull. I arrived several hours early, and since I had nothing else to do, I found a good spectator seat. So many people. So many stories.
My seat was near a busy charging station where people recharged their electronic devices. I considered adding my phone to the mix, but other people moved faster than me.
At one point a man entered the area and deftly secured a charging slot. He plugged in his phone and then sat down in the seat next to me. I continued watching people until I realized the man was speaking to me.
He asked, "Can I ask you a question?"
I said, "Yes."
He asked, "Have you ever accepted the free gift of eternal life that God provides through his Son, Jesus Christ?"
I smiled at the bold stranger and replied, "Yes, I have."
He ventured on... "It would be wrong of me if I didn't make sure you really understand my question. Can you tell me when you made the decision to follow Jesus?"
"Thanks for caring," I responded. Then I assured him that my decision to follow Jesus was a real event in my life.
As soon as he was confident that I was his sister in Christ, we talked for a few minutes about his evangelistic ministry. He explained to me that he travels a lot and tries to share the Gospel in every airport. After our brief conversation, he prayed for me and then moved on to the person in the next seat.
It's hard to explain, but I experienced both conviction and blessing as I witnessed this man boldly answer God's call on his life. In the airport there were so many people with so many stories… but this man obediently shared the story of stories with anyone who would listen.
Then and there at Gate B-7, the words of Matthew 24:12-14 suddenly became three-dimensional…
Sin will be rampant everywhere and will cool the love of many. But those enduring to the end shall be saved. And the Good News about the Kingdom will be preached throughout the whole world, so that all nations will hear it, and then, finally, the end will come.
Whether we like it or not, this is our reality. We do live in a world rampant with sin. We live in a world where school children flee from bullets. We live in a world where we hesitate to show love to strangers. We live in a dark world where lost people need the light of Jesus to show them the way.
But in that moment, there at Gate B-7, this man lived God's Calling. He let the light of Jesus shine through him so brightly that people could not resist his queries. He freely shared the Gospel of Jesus and prayed for his fellow travelers. Afterwards, he boarded his flight. I can't help but wonder about the people who sat next to him on the airplane. May we all be as bold in sharing the Gospel with all who will listen!
Remember this… you are loved, and you are always in my prayers.
In Christ, Cheryl