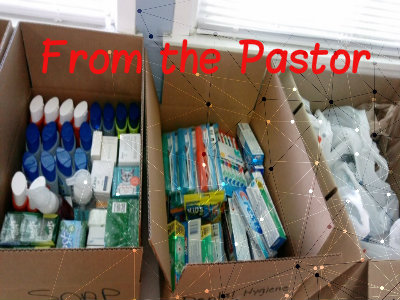 I'm very excited about some of the things going on in the church right now. As I write this article we are working with three other churches in Seabrook to collect Hurricane Relief supplies for North Carolina. It's exciting to see churches working together and exciting to see how God has provided not only the truck to get the supplies to North Carolina but also all the donations! This time next month I am sure I will be complimenting John Mayes for cooking the pig and hamburgers for the Seabrook Community of Churches picnic on the 30th of September!
The Men's Ministry and the Women's Ministry are both off to a great start this season. The men kicked it off with a steak dinner (thanks John Mayes). They're studying the Old Testament book of 1st Samuel. The ladies are being knitted together with part two of their "hands-on" Bible study. Last season they made six beautiful quilts that were given to people fighting cancer. This season, after a light Bible study, they are being taught to knit by Eileen Morse.
We are starting our first Financial Peace University on Oct 11th. This is being led by Scott and Melissa Apley. There are some spots still available for this highly recommended ministry!
Wednesday evening attendance has increased in the last few weeks. I am praying that this is a sign that more of you are serious about continuing to grow in your faith. Discipleship is so vitally important to sustained Christian growth. Come join us at Wednesdays at 6:30 for prayer and praise and then the study in 1st Peter at 7 pm.
However, as we approach the holiday season may I humbly remind us all of something I read somewhere? I don't remember where I read this, but it went something like this, "Busyness is not a spiritual gift." Church people…let…that…sink…in. As thrilled as I am with all that is going on in our church and all that will be going on in the next few months, please do not neglect your relationship with the Lord and with your family over church involvement. Sometimes we confuse being busy with being spiritual. When you find yourself planted in the too busy camp, remember this verse:
Psalm 46:10 ~ Be still and know that I am God.
I am looking forward to the next few months in our church with you! God is so good!
God bless,
Pastor Rob