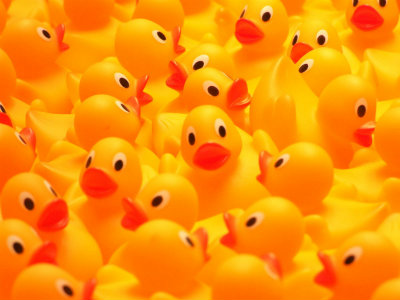 Greetings. It's hard to believe that it is already June. What happened to the first five months of the year? Many of you may agree that time is flying. It's flying so fast that I am beginning to wonder if the earth is about to spin off its axis.
It's also painfully obvious that we live in an age where personal safety has flown out the window. Extra security has become the norm whenever you travel or attend a public venue. Festivals, concerts, movies and even fast food drive-thrus are no longer safe. Just ask Indy Car Driver, Scott Dixon! A few nights ago Scott was robbed at gun point as he placed an order in the drive-thru of an Indianapolis Taco Bell. Two teenage boys were quickly apprehended and arrested for the crime, but it doesn't remove the fearful fallout that Scott Dixon will probably experience.
Just yesterday I had to deal with fearful fallout from a phone scam. You know what I'm talking about... it was one of those crank-calls on steroids. Typically I don't answer unfamiliar numbers. I figure anyone calling from a number that is not saved in my phone will leave a message. I am careful because there are so many robocalls and scams out there. Yesterday my phone rang and I didn't answer. The caller left a message that was obviously a scam. They warned me that I must return their call immediately or I would be located and arrested. My first response was, "This is a scam." However, my angst increased when I learned that the same scammer left threatening messages with family members and also on the message machine at my office. After researching the phone numbers I felt certain that it was scam, so I called the police. They assured me that they weren't looking for me. The officer said it was a spoofing scam and that I should not return the call.
I tell you this for two reasons. First… be careful. Scammers use threatening messages like this to throw you off balance so that maybe, out of fear, you will return their call. Once you return the call they try to intimidate you for personal information and money. Many innocent people have fallen victim to this type of scam.
The other reason I wanted to share is because I believe spiritual lessons can be found in life experiences. As I pondered the situation, I must confess that I initially experienced fear; however, I chose to respond by standing on the truth. Since I hadn't done anything that would cause me to be arrested I reported the scammer's deception to the proper authorities. I called the county deputy and the local police.
In this day and age where danger seems to lurk everywhere—travel, recreation, dinner and even our handy cell phones—it's important that we stand on truth. No matter what may happen to throw us off balance, God is still in control. We can always find security in truth. We also have the privilege of reporting ALL deception to the highest authority… Almighty God!
Jesus warned us about tumultuous last days, and Paul affirmed this in 2 Timothy 3:1-5…
But understand this, that in the last days there will come times of difficulty. For people will be lovers of self, lovers of money, proud, arrogant, abusive, disobedient to their parents, ungrateful, unholy, heartless, unappeasable, slanderous, without self-control, brutal, not loving good, treacherous, reckless, swollen with conceit, lovers of pleasure rather than lovers of God, having the appearance of godliness, but denying its power. Avoid such people.
We live in a day where a lot of things don't make sense. Jesus warned us about this long ago, so we need not be surprised. Instead, be aware, be prayerful, and most important… stand on truth.
The Lord is at hand; do not be anxious about anything, but in everything by prayer and supplication with thanksgiving let your requests be made known to God. And the peace of God, which surpasses all understanding, will guard your hearts and your minds in Christ Jesus. ~ Philippians 4:5-7.
It's also okay to leave unrecognized phone calls unanswered. If it walks like a duck and quacks like a duck… you might need to duck.
Remember this… you are loved, and you are always in my prayers.
In Christ,
Cheryl