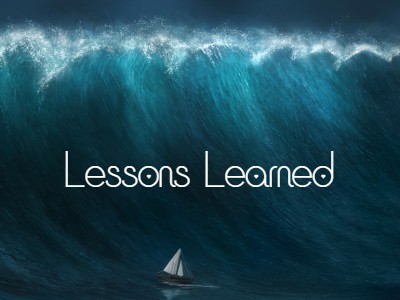 MAY 2020 LAMPLIGHT ~ LESSONS LEARNED
Simply put… I love stories, especially those that are easily applied to life. Even now, I remember several children's stories with memorable lessons…
The Boy Who Cried Wolf – I learned about honesty.
The Ant and the Grasshopper – I learned about hard work and always being prepared.
Through the years, I became an avid reader. Many of my Saturday mornings were spent perusing library shelves for books that I could read in the afternoon. One Saturday in 1972, I was totally absorbed in a Readers Digest Condensed Version of Jaws (written by Peter Benchley). I read this story in one sitting, and still, to this day, I don't believe that it is safe to go into the water!
The movie, Jaws, made it onto the big screen in 1975 ~ Ba dum…. Ba dum… In all there were four Jaws movies, but in my humble opinion, the first film was the best. What was the lesson learned from this story? Well… If you splash around and make too much noise while swimming at the beach, you just might become shark bait.
Stories like Jaws usually have at least two types of characters. A character who wants to protect life, and a character who doesn't believe there is danger to life. The first character usually gives repeated warnings, while the second character ignores the warnings.
In the movie Jaws, we watched the Chief of Police (Martin Brody) try to shut down the beaches. The Mayor (Larry Vaughn) responded with the following line… "Martin, it's all psychological. You yell barracuda, everybody says, 'Huh? What?' You yell shark, and we've got a panic on our hands, on the Fourth of July!"
As I researched script lines from Jaws, I came across a few other memorable disaster movies. See if you agree with the lessons learned!
---
Armageddon
President: What is this thing?
Truman: It's an asteroid, sir.
President: How big are we talking?
Truman: It's the size of Texas, Mr. President.
Lesson Learned: Texas is as big as an asteroid.
---
2012
President Thomas Wilson: "Six months ago, I was made aware of a situation so devastating that, at first, I refused to believe it. However, through the concerted efforts of our brightest scientists, we have confirmed its validity. The world, as we know it, will soon come to an end."
Lesson Learned: 20/20 Hindsight won't stop the end of the world.
---
Dante's Peak
Paul Dreyfus: "Harry, listen… for what it's worth… you were right, and I was wrong."
Lesson Learned: Being able to admit you are wrong is a good thing.
---
Mars Attacks
Martian Translator Device: "Don't run! We are your friends!"
Lesson Learned: Martians lie.
---
The Blob
Steve Andrews: "How do you get people to protect themselves from something they don't believe in?"
Lesson Learned: Good question.
---
Apollo 13
Director: "This could be the worst disaster NASA's ever experienced."
Gene Kranz: "With all due respect, sir, I believe this is gonna be our finest hour."
Lesson Learned: When things go terribly wrong, always do the best you can with what you have.
---
You may wonder why I bring this up. Well, sometimes art imitates life. Each one of these movies represents a form of danger, disaster or at the very least… something that went terribly wrong. Some characters warn against danger. Others don't believe danger exists or they realize way too late. With all this in mind, I couldn't help but think about warnings in the Bible.
~ Adam and Eve – God warned them about the tree. They didn't believe. Sin wreaked havoc.
~ Victims of the Flood – Noah warned the people about God's wrath. They didn't believe. Only eight people survived.
~ Pharaoh – Moses warned Pharaoh about God's wrath. Ten plagues later, Pharaoh still didn't believe.
~ God's Word to a Sinful World – For God so loved the world, that he gave his only Son, that whoever believes in him should not perish but have eternal life.For God did not send his Son into the world to condemn the world, but in order that the world might be saved through him ~ (John 3:16-17).
~ God warns us that time will run out… But do not overlook this one fact, beloved, that with the Lord one day is as a thousand years, and a thousand years as one day.The Lord is not slow to fulfill his promise as some count slowness, but is patient toward you, not wishing that any should perish, but that all should reach repentance. But the day of the Lord will come like a thief, and then the heavens will pass away with a roar, and the heavenly bodies will be burned up and dissolved, and the earth and the works that are done on it will be exposed ~ (2 Peter 3:8-10).
~ 2 Corinthians 6:1-2… Working together with him, then, we appeal to you not to receive the grace of God in vain. For he says, "In a favorable time I listened to you, and in a day of salvation I have helped you." Behold, now is the favorable time; behold, now is the day of salvation.
I guess the question is… Do we really believe God's Word? The lesson for those who believe... We must warn the world that time will eventually run out! The lesson for those who don't believe… Nobody is promised tomorrow. Today is the day of Salvation.
Click Here if you want to learn more. This could be your finest hour!
Remember this… you are loved, and you are always in my prayers.
In Christ, Cheryl
---
May 2020 Lamplight ~ Lessons Learned

Written by Cheryl Harrison

© 2020 – All rights reserved
---
Movie Acknowledgements: Jaws / Armageddon / 2012 / Dante's Peak / Mars Attacks / The Blob / Apollo 13