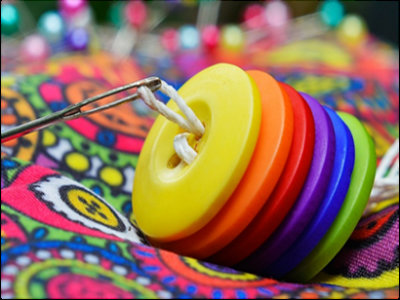 The Women's Ministry Bible study ~ Patchwork, the Handiwork of God ~ will take a break during the holiday season and will resume after the first of the year. All women are invited to be part of this special ministry! Come and join us for Bible study, fellowship and quilting. The excitement grows every week as the quilts begin to take shape. When finished, the Prayer Quilts will be given to cancer patients. What follows is a brief synopsis of the study. We hope you will join us on January 14th as our journey continues...
Session One ~ The Fabric of Our Lives (fabric) - Our God surrounds us on every side and His hand is upon us. He knows the number of our days, and He is aware of every minute of every single one of those days.
Session Two ~ All Things New (seam-ripper) ~ Our God may have to rip out a few stubborn sins, but His finished work is always flawless.
Session Three ~ Needles, Thread & Enlightenment (threading a needle) ~ When God enlightens our hearts we are able to see everything in a new light. God's light helps us to remain hopeful, even when our journey leads us down shadowy paths.
Session Four ~ Full Measure (tape measure) ~ For the sake of this lost world we must allow God's Divine Nature to work through us... this and only this will help us to be "effective and productive in our knowledge of our Lord Jesus Christ."
Session Five ~ Priority One ~ (presser feet) ~ God guides us to his free gift of salvation. Priority one... we must be born again.
Session Six ~ For Your Consideration ~ (bobbins) ~ Instead of provoking anger, we must learn to provoke one another toward love and obedience. When we obediently allow God's love to flow through us, everyone knows to whom we belong... Jesus said, "A new command I give you: Love one another. As I have loved you, so you must love one another. By this everyone will know that you are my disciples, if you love one another."
Session Seven ~ Roller Coaster Ride ~ (buttons) ~ Sometimes life resembles a roller coaster ride. In short... the ups and downs of life are an integral part of understanding the ins and outs of God's Word.
As we traverse our appointed highs and lows in life, we also learn about valley and mountaintop experiences. Most valleys lead to mountaintops and mountaintops roll down into valleys; both are connected by rocky mountainsides.
Case in point ~ In Genesis 22, God tested Abraham... "Take your son, your only son, whom you love—Isaac—and go to the region of Moriah. Sacrifice him there as a burnt offering on a mountain I will show you." (vs. 2)
Talk about a roller coaster ride! I'm sure that Abraham was incredibly troubled by God's command, but take look at the beginning of the next verse: Early the next morning Abraham got up...
Personally, if I know I am about to have a bad day, I prefer to just stay in bed. Abraham had the same choice, but even though he was about to face the worst day of his life... he got out of bed. Abraham got up in the valley and obediently climbed the rocky mountainside. And because of his faith, Abraham experienced God's provision. His beloved son Isaac was spared because God provided the sacrifice. Wow! The view from that mountaintop must have been spectacular!
God's perfect plan for our lives may lead us through valleys, up steep mountainsides, to spectacular mountaintops, and then down the other side... but we can rest assured that God keeps His promise to be with us through all the ups and downs.
Remember this... you are loved and you are always in my prayers.
In Christ, Cheryl
Patchwork, the Handiwork of God
Written by: Cheryl Harrison
Copyright 2017. All rights reserved.