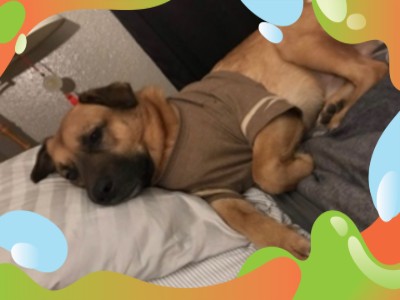 My daughter Sarah called me a few nights ago to share a Woofles story. Let me explain…
Sarah and Danny have two dogs. Jack is Danny's dog and Woofles is Sarah's dog. When Woofles goes outside he tends to be easily distracted by other animals. To combat this problem, Danny attached a small snack pouch to Woofle's leash. Now, when another animal arrives on the scene, Danny uses discipline commands and snack rewards to keep Woofles focused. So far, this has worked well.
But wait… there's more to the story. Did I mention that Woofles is Sarah's dog? Well, it seems that Woofles is now following Danny around the house more than he follows Sarah. Aww… does this mean that Woofles has a new master?
When Sarah finished her story, I told her not to worry because it was all about the snacks. Woofles doesn't love Danny more than he loves Sarah. He just loves Scooby snacks and wants to be close to the snack-giver.
Before we finished our conversation, I was already formulating this article. Don't get me wrong. I'm not saying that believers are like dogs. According to Jesus, we are more like sheep. What I am saying is… scriptural applications can be found in most life situations.
Here are a few that came to mind…
When we are distracted, the Lord may use discipline to draw us back to his side.
The Lord rewards us when we obey.
Once you have experienced a blessing from the Lord, you always want more.
The world misses us when we follow the Lord.
Believers need discipline… God disciplines us for our good so that we will share in His Holiness. (Hebrews 12:10)
Believers follow Jesus… Jesus said to his disciples, "If anyone would come after me, he must deny himself and take up his cross and follow me." (Matthew 16:24)
Believers seek God… Without faith, it is impossible to please God, because anyone who comes to Him must believe that He exists and that He rewards those who earnestly seek Him. (Hebrews 11:6)
God rewards us with His presence… Come near to God and He will come near to you. (James 4:8)
Believers are set apart from the world… This world and its desires pass away, but the man who does the will of God lives forever. (1 John 2:17)
Faithful Believers enter God's Divine Joy… His master said, Well done, good and faithful servant! You have been faithful with a few things; I will put you in charge of many things. Come and share your master's happiness! (Matthew 25:21)
There is nothing that can separate us from God. Distractions come and go, but his discipline helps us learn how to deny ourselves and follow him. He faithfully strengthens our faith so that we will believe and earnestly seek him. He blesses us with his presence, sets us apart from the world and invites us into his divine joy.
But wait… there is more… His divine power has given us everything we need for life and godliness through our knowledge of him who called us by his own glory and goodness. (2 Peter 1:3)
One more…How great is your goodness, which you have stored up for those who fear you, which you bestow in the sight of men on those who take refuge in you. (Psalm 32:19)
At times it may feel like we live in a dog's world, but because of his great love for us, God who is rich in mercy has made us alive in Christ (Eph.2:4). This should give us pause… or should I say paws? Selah.
Remember this… you are loved, and you are always in my prayers.
In Christ, Cheryl