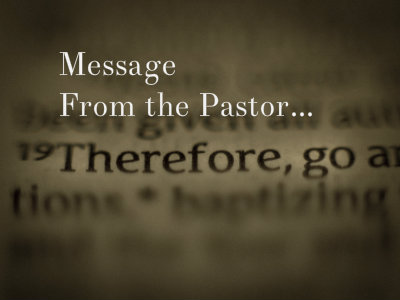 Acts 1:8 ~ But you shall receive power when the Holy Spirit has come upon you; and you shall be witnesses to Me in Jerusalem, and in all Judea and Samaria, and to the end of the earth.
The above scripture is the blueprint for our church's missions efforts. We are committed to evangelizing in four different fields. We do that by planting seeds, helping to tend the field and then helping in the harvest.
Our Jerusalem is Seabrook and it's surrounding communities. We planted seeds during our very successful VBS. 24 youth volunteers, 36 adult volunteers (Led by Ashley VanDerbeck) ministered to 98 children for five days. The immediate harvest was 12 decisions for Christ. The Lord knows what will come of the other seeds that were planted! A huge "thank you" from a very proud pastor to a church that works so well together!
Our Judea is Texas. Four members of our church impacted the Texas Republican Convention for the cause of Christ last week. This is an important mission field! Please read the report printed in this edition of the Newsletter.
Samaria is North America. We plant in this field in several ways. Our church is actively involved in supporting Blast and Cast Men's Ministry. Through our involvement with Blast and Cast over 12,000 heard the gospel through a Memorial Day video. 52 men attended an event in Matagorda and six folks were baptized! Harvest!!!!
We are sending a mission team to Darrington, Washington to assist Mountain View Baptist Church hold a VBS. In addition to helping with the VBS the team will be participating in community surveying with church planters hoping to identify new fields to plant churches!!!
For 12 years our "end of the earth" ministry has been in Senegal, specifically, in Mbour, Senegal through our mission house, "Keru Naan." Your faithfulness and perseverance in this difficult mission field has yielded a wonderful and exciting harvest. June saw the graduation ceremony of another class of church planters. The church planting school is held in various locations, including Keru Naan, and is designed to equip Senegalese believers with the tools needed to plant churches. There are now 27 church plants! The church's attendance ranges between 3-30 with the average being 10. Please continue to pray for Senegal!!!!
I was reminded this week about the Sovereignty of God. He is sovereign in ALL things. He is sovereign in the floods, in the border and immigration issues, in our personal struggles and in the church.
"Yours, LORD, is the greatness and the power and the glory and the majesty and the splendor, for everything in heaven and earth is yours. Yours, LORD, is the kingdom; you are exalted as head over all. Wealth and honor come from you; you are the ruler of all things. In your hands are strength and power to exalt and give strength to all". ~ 1 Chronicles 29:11-12
God bless, Pastor Rob