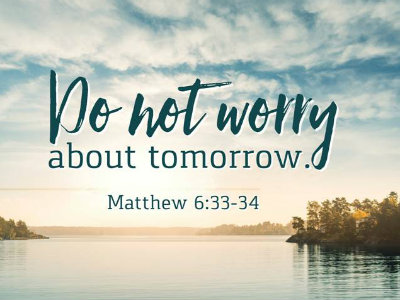 Matthew 6:34
Therefore do not worry about tomorrow, for tomorrow will worry about itself. Each day has enough trouble of its own.
If I had to make a list of commands in the Bible that I struggle to follow, this Scripture would be very close to the top. It sounds simple enough, "...do not worry about tomorrow...". One can also easily agree with the last sentence, "Each day has enough trouble of its own." "Sure does!" we think! However, in the application it's not that easy at all.
I'm pretty good at rationalizing. In fact, after a couple decades as a disciple of Christ, I'm pretty good at using Scripture to rationalize. I'm confident some of you are as well. Quoting Luke 14:28 to myself, "Suppose one of you wants to build a tower. Won't you first sit down and estimate the cost to see if you have enough money to complete it?" I'd say, "See, I am not worrying, I am counting the cost." Or, I'd whip out Phil 3:13-14, "Brothers and sisters, I do not consider myself yet to have taken hold of it. But one thing I do: Forgetting what is behind and straining toward what is ahead, I press on toward the goal to win the prize for which God has called me heavenward in Christ Jesus." and exclaim, "I'm not worrying, I am pressing on toward a goal!"
The real truth is I sometimes worry. When I worry I am being disobedient. Instead of rationalizing with Scripture I need to obey Scripture.
Now listen, you who say, "Today or tomorrow we will go to this or that city, spend a year there, carry on business and make money." Why, you do not even know what will happen tomorrow. What is your life? You are a mist that appears for a little while and then vanishes. Instead, you ought to say, "If it is the Lord's will, we will live and do this or that." As it is, you boast in your arrogant schemes. All such boasting is evil. If anyone, then, knows the good they ought to do and doesn't do it, it is sin for them. ~ James 4:13-17
Working on worrying less and trusting more!!!
God bless, Pastor Rob