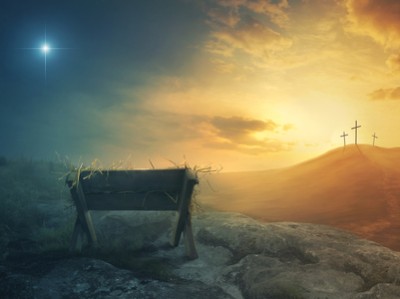 "Remember the law of my servant Moses, the statutes and rules that I commanded him at Horeb for all Israel. Behold, I will send you Elijah the prophet before the great and awesome day of the Lord comes. And he will turn the hearts of fathers to their children and the hearts of children to their fathers, lest I come and strike the land with a decree of utter destruction." (Malachi 4:5-6 ESV)
Malachi – the last Old Testament prophet to speak God's Words to the people. After this… God went off the grid. Nothing but silence for more than 400 years. Anyone who claimed to speak for God was proven to be an imposter, because the fullness of time had not yet come. The years between were filled with war and upheaval. The political and religious climate set the perfect stage for God's plan.
Jesus came into the world when God's people were oppressed by the Roman Empire. They could worship but had limited personal freedom. Old Testament prophecy of God's promises stoked a flickering flame of hope as they watched for the promised Messiah. They waited expectantly for a warrior, not a baby in a manger. They wanted a victorious king, not a suffering servant.
"For to us a child is born, to us a son is given; and the government shall be upon his shoulder, and his name shall be called Wonderful Counselor, Mighty God, Everlasting Father, Prince of Peace." (Isaiah 9:6)
Isaiah 9:6… God's promise to his people and important words to remember in times of confusion and upheaval. I like The Message Version of the passage, as well…
For a child has been born—for us! the gift of a son—for us! He'll take over the running of the world. His names will be: Amazing Counselor, Strong God, Eternal Father, Prince of Wholeness.
"For us!" – Such wonderful words!
"But God demonstrates his own love for us in this: While we were still sinners, Christ died for us." (Romans 5:8)
"What then shall we say to these things? If God is for us, who can be against us? He who did not spare his own Son but gave him up for us all, how will he not also with him graciously give us all things? (Romans 8:31-32)
For me, the slow-motion crash of the year 2020 has been one for the history books. We have all witnessed the collision of fear, uncertainty, and division form into a perfect storm of politics, science and religion. Now that's what I call Climate Change! I believe this climate is ripe for God to herald His maranatha moment… our Lord is coming!
Soon, the year 2020 will make way for 2021 and beyond. No need to fear, because this topsy-turvy world will never silence God. He speaks loud and clear through His Son… our Lord and Savior, Jesus Christ.
At the beginning of this article I reminded you about the last words in the Old Testament. Here are the final words in the New Testament…
"He who testifies to these things says, 'Yes, I am coming soon.' Amen. Come, Lord Jesus. The grace of the Lord Jesus be with God's people. Amen." (Revelation 22:20-21)
Good News! Jesus is coming soon! While we wait, let's celebrate the True Reason for the Season by obeying God's Word…
"Therefore if you have any encouragement from being united with Christ, if any comfort from his love, if any common sharing in the Spirit, if any tenderness and compassion, then make my joy complete by being like-minded, having the same love, being one in spirit and of one mind. Do nothing out of selfish ambition or vain conceit. Rather, in humility value others above yourselves, not looking to your own interests but each of you to the interests of the others. In your relationships with one another, have the same mindset as Christ Jesus: Who, being in very nature God, did not consider equality with God something to be used to his own advantage; rather, he made himself nothing by taking the very nature of a servant, being made in human likeness. And being found in appearance as a man, he humbled himself by becoming obedient to death— even death on a cross! Therefore God exalted him to the highest place and gave him the name that is above every name, that at the name of Jesus every knee should bow, in heaven and on earth and under the earth, and every tongue acknowledge that Jesus Christ is Lord, to the glory of God the Father." (Philippians 2:1-11)
Remember this… you are loved, and you are always in my prayers.
In Christ, Cheryl