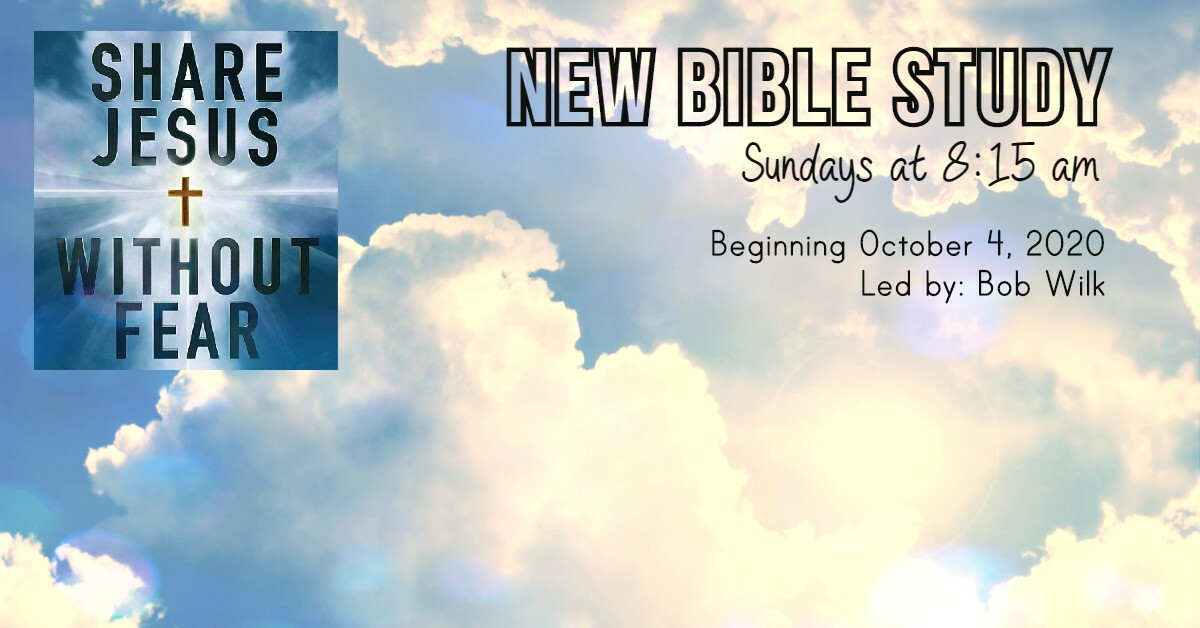 Every Sunday, from 10/04/2020 to 10/25/2020, 8:15 AM - 9:15 AM
Beginning October 4, 2020, Bob Wilk's class will start a NEW Bible study -- "Share Jesus Without Fear" -- If you are interested in this study, please see the Sign-Up sheet on the bulletin board in the hallway. Deadline to sign up is September 13, 2020.
---
What Is Share Jesus Without Fear
How many of us have been the means by which someone came to know the Lord Jesus Christ? One study revealed that most followers of Christ rarely, if ever, witness to the lost because of our struggle with four major fears:
Fear of rejection?
Fear of not knowing enough?
Fear of offending?
Fear of ridicule or persecution?
God provides the opportunity to witness, and He promises His power to help us. Yet, we simply say no, because of fear. But to say no to God for any reason is a sin.
To give into any of these fears is to practice the sin of silence. But, you don't have to be afraid! Resist the temptation to believe your weaknesses are unchangeable. In prayer, honestly share with God your fears of witnessing in prayer. Focus your heart on the strength that matters--the presence of God and the assurance of His power!
It is not your strength that will bring you the power to share Jesus with a lost person. It is your dependence on His power. Successful witnessing is about obedience and dependence. Your greatest strength is your willingness to trust God as your partner in guiding a lost brother or sister, parent, son or daughter, colleague at work, or stranger to know God's saving grace.
---
Bob Wilk's class meets every Sunday at 8:15 am in the back Annex.
For additional details about this study, please email us at .