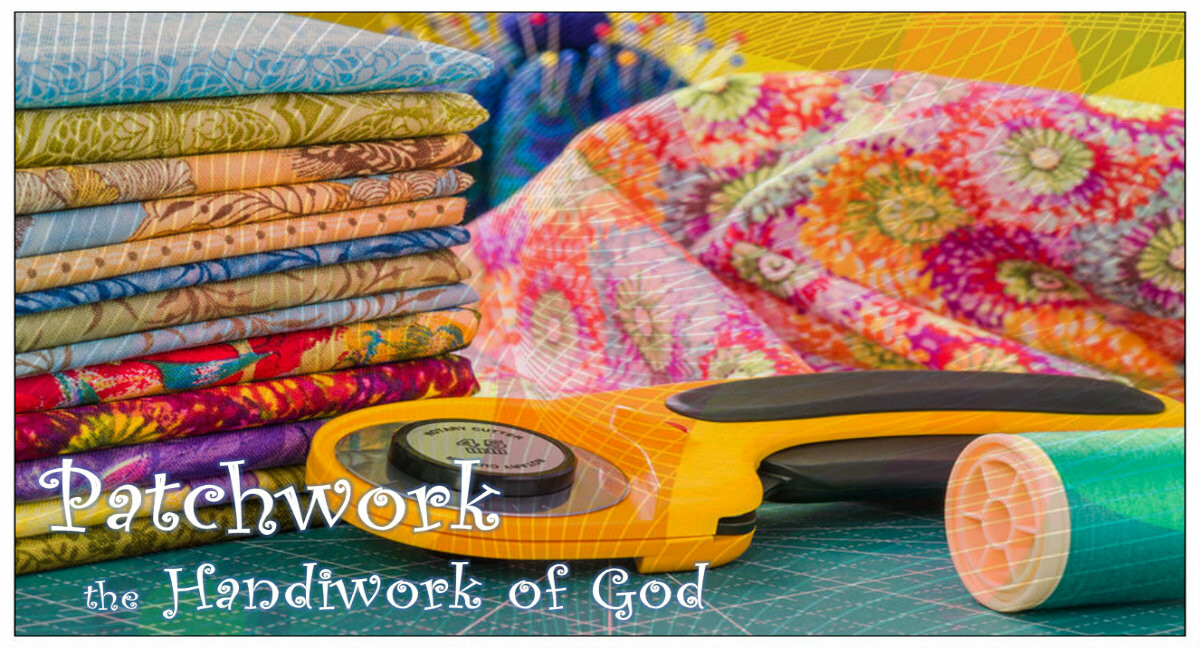 Every Sunday, 5:00 PM - 6:30 PM
Women's Bible Study meets on Sunday afternoons at 5:00 p.m. Women enjoy a light Bible study, fun and fellowship. As a bonus we are learning how to make handmade quilts for Cancer Patients! Come and bring a friend! For details, please see Cheryl Harrison or Gloria Henry.
---
Next Meeting: January 14, 2018 at 5:00 p.m.
No worries if you have missed meetings. There is always room for you! We are taking a break for Thanksgiving and Christmas. Meetings will resume on January 14, 2018.
---
Highlights for October 29th, November 5th and November 12th will be posted soon. Scroll down for more...
---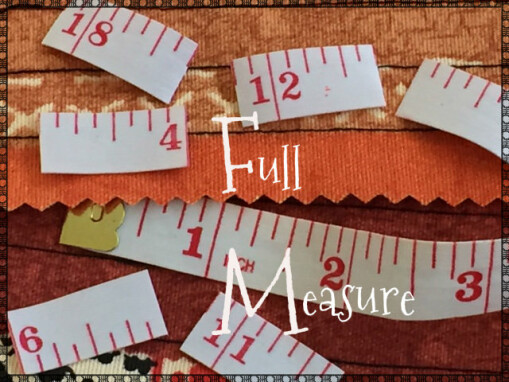 October 22nd Highlights...
His divine power has given us everything we need for a godly life through our knowledge of him who called us by his own glory and goodness. Through these he has given us his very great and precious promises, so that through them you may participate in the divine nature, having escaped the corruption in the world caused by evil desires. For this very reason, make every effort to add to your faith goodness; and to goodness, knowledge; and to knowledge, self-control; and to self-control, perseverance; and to perseverance, godliness; and to godliness, mutual affection; and to mutual affection, love. For if you possess these qualities in increasing measure, they will keep you from being ineffective and unproductive in your knowledge of our Lord Jesus Christ. ~ 2 Peter 1:3-8
Full Measure...
During the past few weeks I have shared about my mom's sewing skills. She was, and still is, very talented when it comes to turning raw fabric into something useful. We all have a happy place, and during my younger years, I remember my mom being very happy when she sat in front of her Singer sewing machine.
My mom loves to stitch, and in the height of her sewing career, she somehow managed to sew for her family, friends and the public. Mom made a lot of my wardrobe, and she'd pull out her trusty tape measure every time she began a new garment. Every dress, skirt, shorts, pants, and blouse required my current measurements, but the tape measure was just the beginning. First, she measured me. Then, she laid out patterns, cut fabric, pinned everything together, and called me in for "fittings." Personally, I learned a lot about straight pin torture during these fittings. Especially when the pins poked my armpits!
The crux of the matter is this... every garment made for me required my measurements. Why? Because clothing can't serve its purpose if it doesn't fit right.
Last week we heard Paul implore the Lord in his prayer. He prayed... "that the God of our Lord Jesus Christ, the Father of glory, may give you the Spirit of wisdom and of revelation in the knowledge of him, having the eyes of your hearts enlightened, that you may know what is the hope to which he has called you,
In this prayer, we can sense Paul's heartfelt desire for his brothers and sisters in Christ. Paul prays that God, through His Holy Spirit, would provide the wisdom and revelation that enables us to know Him. Paul pleads with the Lord to open our spiritual eyes and to shed light on His individual calling on our lives.
In this week's passage we see the common thread of God's calling on our lives... His divine power has given us everything we need for a godly life through our knowledge of him who called us by his own glory and goodness.
This passage reflects God's answer to Paul's prayer...
As Christians we "know" Jesus, and because of this God gives us everything... yes EVERYTHING... we need to live a godly life. We see God's precious promises fulfilled through His provision. He gives us the free gift of His Holy Spirit, thus we bear His fruit -- love, joy, peace, patience, kindness, goodness, faithfulness, gentleness, and self-control. ~ Galatians 5:22-23
In the midst of everything, we must not overlook the source of the fruit. It is God and only God who provides incorruptible and imperishable fruit. Therefore, we should strive to "possess His divine qualities in increasing measure...
This week's Object Lesson was a Measuring Tape, of which everyone in the room received one inch. First, I called attention to the different numbers on each section. Then I noted that every piece was the exact same size -- one inch. As women we tend to measure ourselves against one another. We question if we measure up as a wife, mom, sister, aunt, grandma, friend, co-worker, believer, etc... This constant comparison is a spiritually unhealthy habit that leads us down the destructive path of "Never Measured Up."
But wait! There is good news! As Christians we need not measure ourselves against one another. On the contrary, by giving the Holy Spirit full access to everything we do and say, God increases and we decrease. God has a unique calling for each of us, and the full measure of the Holy Spirit within us helps us to lay hold of all that God has planned for us. For the sake of this lost world we must allow God's Divine Nature to work through us... this and only this will help us to be "effective and productive in our knowledge of our Lord Jesus Christ."
In our flesh we may strive to be like one another, but God wants us to be like His Son. Thankfully He gives us the Full Measure of Himself to help us along, and with His help we will"Always Measure Up."
Full Measure
Written by: Cheryl Harrison
Copyright 2017. All rights reserved.
---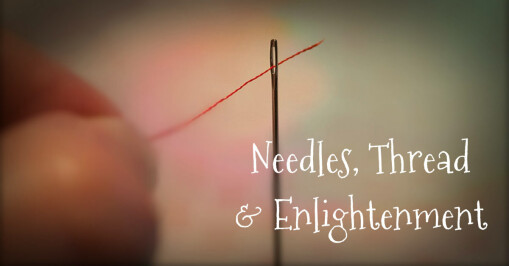 October 15th Highlights...
"For this reason, because I have heard of your faith in the Lord Jesus and your love toward all the saints, I do not cease to give thanks for you, remembering you in my prayers, that the God of our Lord Jesus Christ, the Father of glory, may give you the Spirit of wisdom and of revelation in the knowledge of him, having the eyes of your hearts enlightened, that you may know what is the hope to which he has called you, what are the riches of his glorious inheritance in the saints, and what is the immeasurable greatness of his power toward us who believe, according to the working of his great might that he worked in Christ when he raised him from the dead and seated him at his right hand in the heavenly places, far above all rule and authority and power and dominion, and above every name that is named, not only in this age but also in the one to come. And he put all things under his feet and gave him as head over all things to the church, which is his body, the fullness of him who fills all in all." ~ Ephesians 1:15-22
Needles, Thread & Enlightenment...
Anyone who desires to sew, must be able to thread a needle. Yes, it's true... because if you can't thread the needle, it's impossible to complete your sewing task. Needles and thread work together to create seams, hem, mend, and sew on buttons. It's absolutely futile to use one without the other.
My mom taught me the art of threading a needle. She was a master at slipping thread through the eye of the needle on her first try. Me... not so much. I always "missed it by that much." There may be tools that assist in the task, but in my hands they are useless. Through the years I've tried different techniques, but the one that works the best is lots and lots of light. Light makes threading a needle so much easier!
There are several other things I've learned as well...
1) Spit is essential. In my experience it is important to use spit to smooth frayed fibers before trying to thread the needle. It also assists in creating the knot. You have all heard the adage, "Make sure you hold your tongue right." But I am here to tell you... Spit is essential! Even Jesus knew the power of spit... He used it to heal a blind man.
2) Length of thread is critical. I have found that too much thread creates additional sewing strife. I can't tell you how many times I've had to start over due to tangles caused by lengthy thread. In my opinion... when it comes to the length of your thread ~ less is better!
3) Gotta have knots. Knots anchor the beginning of our work. My mom taught me all about great knots. She showed me how to evenly gather two strands of thread between my thumb and forefinger. Then, (this is where spit comes in handy) wrap the thread around the forefinger, and push the twisted thread downward with the thumb. Ta-da! Knot! Works every time! As a side note, I was really blessed this week as Gloria shared her story about the prayer knots. I think it's a wonderful idea to add prayer knots to our quilts. Little anchors of prayer for someone who is struggling through cancer treatment.
My favorite prop for this lesson is the Headlamp. Yes, I heard your giggles when I put it on my forehead, but it was the best way to illustrate the importance of light when threading a needle. At the same time, there are so many areas along the path of life that require light. It is in these shadowy places that God's light helps us remain hopeful all the way through!
In the first part of Ephesians 1:18, Paul prays the words... "πεφωτισμένους τοὺς ὀφθαλμοὺς τῆς καρδίας [ὑμῶν]", pronounced (pe.pho.tis.men.ous) (tous) (op.thal.mous) (tays) (kar.di.as) (hu.mown), and translated... "having enlightened the eyes of your hearts." Here Paul implores the Lord to help us to clearly see and understand the truth of His Word. When God enlightens our hearts we are able to see everything in a NEW light... God's light. The following passages say it best...
Psalm 19:8 ~ The precepts of the LORD are right, rejoicing the heart; the commandment of the LORD is pure, enlightening the eyes.
Psalm 119:130 ~ The unfolding of your words gives light; it gives understanding to the simple.
Psalm 119:105 ~ Your Word is a lamp for my feet, a light on my path.
John 12:46 ~ I have come into the world as a light, so that no one who believes in me should stay in darkness.
Needles, Thread & Enlightenment
Written by: Cheryl Harrison
Copyright 2017. All rights reserved.
---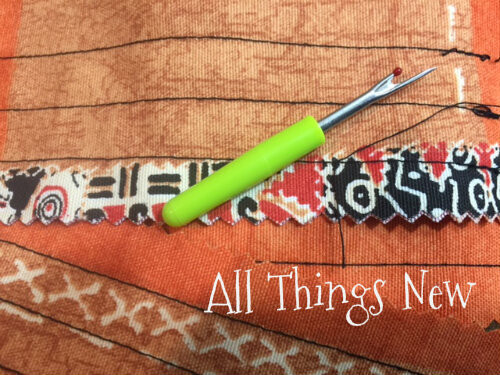 October 8th Highlights...
"Therefore, if anyone is in Christ, he is a new creation; old things have passed away; behold, all things have become new. Now all things are of God, who has reconciled us to Himself through Jesus Christ, and has given us the ministry of reconciliation, that is, that God was in Christ reconciling the world to Himself, not imputing their trespasses to them, and has committed to us the word of reconciliation." ~ 2 Corinthians 5:17-19.
All Things New...
Early in my Christian walk, I was blessed to learn the importance of Discipleship. Very quickly after I surrendered my life to the Lord I was placed in a small group that stressed Scripture memorization.
My first Memory Verse was Psalm 119:11 ~ "I have hidden your word in my heart that I might not sin against you."
My second Memory Verse was 2 Corinthians 5:17 ~ "Therefore, if anyone is in Christ, he is a new creation; old things have passed away; behold, all things have become new."
This week's sewing tool ~ The Seam Ripper ~ blends perfectly with this passage. The seam ripper is used to repair...
Last week I shared with you that my mother is a seamstress. In my younger years she sewed as a source of income. She made clothing for many people, including me. Up until my tenth grade year most of my apparel was "Made by Mom."
I spent hours watching my mom labor over one garment or another, and even though I knew little about sewing, she always included me in her work. The main job I was allowed to do was to remove wayward stitches with a seam ripper. Sometimes it was simple, because the stitches were large and loose. Other times things got complicated, because of tiny stitches, especially when the back-and-forth stitching at the end of a seam was thrown into the mix. These complicated stitches required so much patience because I had to dig into the seam and remove thread without damaging fabric. And so we'd go… I removed messed up seams, my mom repaired damage, and once she finished the garments were flawless and new.
Our passage ~ 2 Corinthians 5:17 ~ makes an astounding promise… The moment we receive Jesus as our Savior and Lord we become NEW in Christ. We are immediately woven into the Family of God, and when God looks at us, he doesn't see our flaws. He sees His Son's perfect obedience.
But Wait! There's more… God is our Heavenly Father and He is faithful to discipline us when needed. Thus, He effectively uses His Word to remove stubborn sin from our lives…
Hebrews 4:12: "For the word of God is alive and active. Sharper than any double-edged sword, it penetrates even to dividing soul and spirit, joints and marrow; it judges the thoughts and attitudes of the heart.
The Best News is… Through Jesus, God reconciled our relationship with Himself. He loves us so much that He did something...
The Greek word for "reconciliation" - καταλλαγῆς , pronounced "katal.lay.ges," symbolizes God as the "catalyst" of our relationship with Him. The word, καταλλαγῆς means - "reestablishment of an interrupted or broken relationship" - which in this case is "reestablished" by God alone.
Yes, God and only God, is the "Agent who brings about significant change or action." He may have to rip out a few stubborn sins, but His finished work is always flawless.
All Things New
Written by: Cheryl Harrison
Copyright 2017. All rights reserved.
---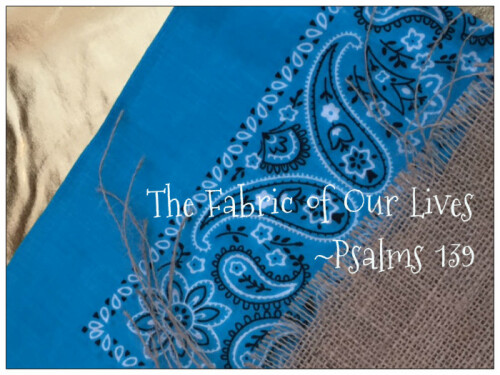 October 1st Highlights...
"Even before a word is on my tongue, behold, O Lord, you know it altogether. You hem me in, behind and before, and lay your hand upon me." ~ Psalm 139:4-5.
The Hebrew word (צַרְתָּ֑נִי) "hem", pronounced "tsar.tah.nee" symbolizes God's encircling presence in our lives. He surrounds us on every side and His hand is upon us. He knows the number of our days, and He is aware of every minute of every single one of those days.
The Fabric of Our Lives...
Sometimes we have a "Burlap" day. Burlap is a rough fabric that frays around the edges and begins to unravel. God is aware of our "Burlap" days. He is right there with us during the rough days when things seem to unravel all around us.
Sometimes we have a "Cotton" day. Cotton is awesome fabric. It is very practical. I have some cotton sheets that get softer with every wash. Cotton clothing breathes and keeps me cool on hot days. God is all over our "Cotton" days. His Word softens our heart and even if things begin to heat up, we stay cool!
For the Christian, everyday is a "Gold Lame" day. Gold Lame sparkles in the light. This fabric is mostly used for special occasions. "Gold Lame" symbolizes God's eternal promise of Heaven, but it also reminds us that we are "Royal." When God shines His light on us, we Sparkle! Today and forevermore, we are "Children of the King."
The Fabric of Our Lives
Written by: Cheryl Harrison
Copyright 2017. All rights reserved.
This Sunday, October 29th...
We will have a short Bible study and then divide into groups to continue work on the Prayer Quilts. If you have a sewing kit, rotary cutter, and/or a cutting mat, please bring them along with you.
The finished Prayer Quilts will be given to cancer patients who are going through Chemo and Radiation treatments. Remember... Every stitch represents a prayer.
See you then! Come and bring a friend!