Women's Ministry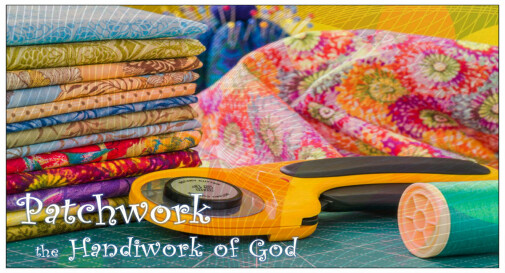 This Six-Week Bible Study meets on Sunday afternoons at 5:00 p.m., beginning on October 1st. Women enjoy a light Bible study, fellowship, and as a bonus we are learning how to make handmade quilts for Cancer Patients! Come and bring a friend! For details, please see Cheryl Harrison or Gloria Henry.
---
Next Meeting: October 15th at 5:00 p.m.
No worries if you have missed meetings. Come next week! There is always room for you!
---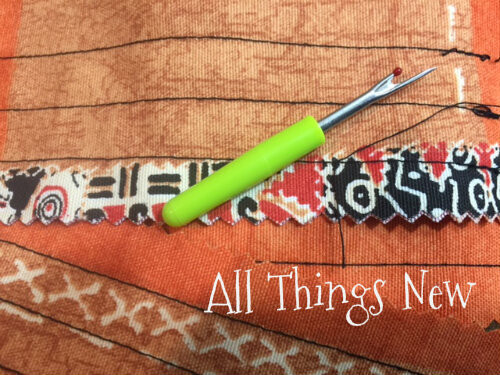 October 8th Highlights...
"Therefore, if anyone is in Christ, he is a new creation; old things have passed away; behold, all things have become new. Now all things are of God, who has reconciled us to Himself through Jesus Christ, and has given us the ministry of reconciliation, that is, that God was in Christ reconciling the world to Himself, not imputing their trespasses to them, and has committed to us the word of reconciliation." ~ 2 Corinthians 5:17-19.
All Things New...
Early in my Christian walk, I was blessed to learn the importance of Discipleship. Very quickly after I surrendered my life to the Lord I was placed in a small group that stressed Scripture memorization.
My first Memory Verse was Psalm 119:11 ~ "I have hidden your word in my heart that I might not sin against you."
My second Memory Verse was 2 Corinthians 5:17 ~ "Therefore, if anyone is in Christ, he is a new creation; old things have passed away; behold, all things have become new."
This week's sewing tool ~ The Seam Ripper ~ blends perfectly with this passage. The seam ripper is used to repair...
Last week I shared with you that my mother is a seamstress. In my younger years she sewed as a source of income. She made clothing for many people, including me. Up until my tenth grade year most of my apparel was "Made by Mom."
I spent hours watching my mom labor over one garment or another, and even though I knew little about sewing, she always included me in her work. The main job I was allowed to do was to remove wayward stitches with a seam ripper. Sometimes it was simple, because the stitches were large and loose. Other times things got complicated, because of tiny stitches, especially when the back-and-forth stitching at the end of a seam was thrown into the mix. These complicated stitches required so much patience because I had to dig into the seam and remove thread without damaging fabric. And so we'd go… I removed messed up seams, my mom repaired damage, and once she finished the garments were flawless and new.
Our passage ~ 2 Corinthians 5:17 ~ makes an astounding promise… The moment we receive Jesus as our Savior and Lord we become NEW in Christ. We are immediately woven into the Family of God, and when God looks at us, he doesn't see our flaws. He sees His Son's perfect obedience.
But Wait! There's more… God is our Heavenly Father and He is faithful to discipline us when needed. Thus, He effectively uses His Word to remove stubborn sin from our lives…
Hebrews 4:12: "For the word of God is alive and active. Sharper than any double-edged sword, it penetrates even to dividing soul and spirit, joints and marrow; it judges the thoughts and attitudes of the heart.
The Best News is… Through Jesus, God reconciled our relationship with Himself. He loves us so much that He did something...
The Greek word for "reconciliation" - καταλλαγῆς , pronounced "katal.lay.ges," symbolizes God as the "catalyst" of our relationship with Him. The word, καταλλαγῆς means - "reestablishment of an interrupted or broken relationship" - which in this case is "reestablished" by God alone.
Yes, God and only God, is the "Agent who brings about significant change or action." He may have to rip out a few stubborn sins, but His finished work is always flawless.
All Things New
Written by: Cheryl Harrison
Copyright 2017. All rights reserved.
---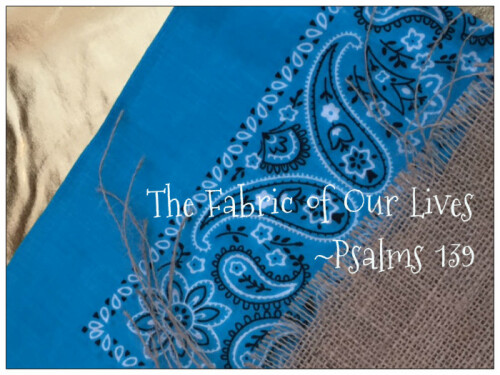 October 1st Highlights...
"Even before a word is on my tongue, behold, O Lord, you know it altogether. You hem me in, behind and before, and lay your hand upon me." ~ Psalm 139:4-5.
The Hebrew word (צַרְתָּ֑נִי) "hem", pronounced "tsar.tah.nee" symbolizes God's encircling presence in our lives. He surrounds us on every side and His hand is upon us. He knows the number of our days, and He is aware of every minute of every single one of those days.
The Fabric of Our Lives...
Sometimes we have a "Burlap" day. Burlap is a rough fabric that frays around the edges and begins to unravel. God is aware of our "Burlap" days. He is right there with us during the rough days when things seem to unravel all around us.
Sometimes we have a "Cotton" day. Cotton is awesome fabric. It is very practical. I have some cotton sheets that get softer with every wash. Cotton clothing breathes and keeps me cool on hot days. God is all over our "Cotton" days. His Word softens our heart and even if things begin to heat up, we stay cool!
For the Christian, everyday is a "Gold Lame" day. Gold Lame sparkles in the light. This fabric is mostly used for special occasions. "Gold Lame" symbolizes God's eternal promise of Heaven, but it also reminds us that we are "Royal." When God shines His light on us, we Sparkle! Today and forevermore, we are "Children of the King."
The Fabric of Our Lives
Written by: Cheryl Harrison
Copyright 2017. All rights reserved.
This Sunday, October 15th...
We will have a short Bible study and then divide into groups to work on the Prayer Quilts. Fabric and Notions will be provided. If you have a sewing kit, rotary cutter, and/or a cutting mat, please bring them along with you.
The finished Prayer Quilts will be given to cancer patients who are going through Chemo and Radiation treatments. Remember... Every stitch represents a prayer.
See you then! Come and bring a friend!