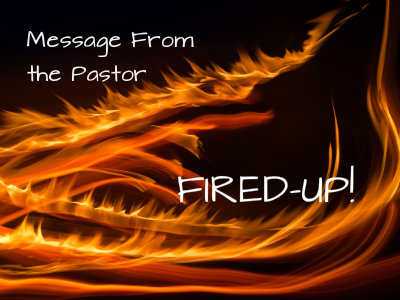 I'm always pretty fired up the month after Easter. There is something about focusing on the Resurrection of Jesus Christ and the promise of our resurrection that is energizing. I think Easter helps us focus on who and what our common faith is all about!
The disciples were pretty fired up after the resurrection, too. Jesus was busy! Here is how Luke describes the 40 days after the Resurrection:
Acts 1:1-3
The former account I made, O Theophilus, of all that Jesus began both to do and teach, until the day in which He was taken up, after He through the Holy Spirit had given commandments to the apostles whom He had chosen, to whom He also presented Himself alive after His suffering by many infallible proofs, being seen by them during forty days and speaking of the things pertaining to the kingdom of God.
At the end of this time with Jesus, the disciples are going to receive the gift of the Holy Spirit and their marching orders.
Acts 1:4-8
And being assembled together with them, He commanded them not to depart from Jerusalem, but to wait for the Promise of the Father, "which," He said, "you have heard from Me; for John truly baptized with water, but you shall be baptized with the Holy Spirit not many days from now." Therefore, when they had come together, they asked Him, saying, "Lord, will You at this time restore the kingdom to Israel?" And He said to them, "It is not for you to know times or seasons which the Father has put in His own authority. But you shall receive power when the Holy Spirit has come upon you; and you shall be witnesses to Me[a] in Jerusalem, and in all Judea and Samaria, and to the end of the earth."
Acts 1:8 is our marching order as well. We are in the planning stages of VBS (Jerusalem), mission trips to South Texas (Judea) and Washington state (Samaria). We currently maintain a mission house in Senegal (end of the earth). This is calling and our purpose! Let's stay energized!
Congratulations are in order for Alli Mayes. For the 3rd year in a row she has won the annual Chili Cook-Off. The field was packed with 17 entries. The judges did a great job! Attendance was awesome! Thank you to the Hospitality Committee and Deacons for making it all work.
After Jesus ascended into Heaven the first thing the disciples did was to have a prayer meeting. Prayer meetings are important! Please consider committing to attending our prayer meetings on Wednesday evenings at 6:30. The Body and Kingdom need us to pray together!
God bless, Pastor Rob