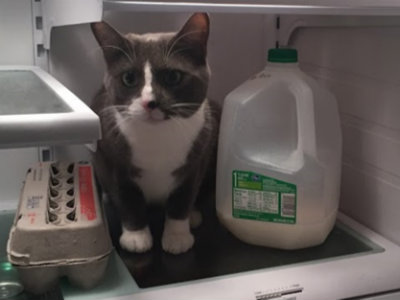 We first met Paul Ray in the tenth month of his captivity at the League City Animal Shelter. It was love at first sight so we adopted him and took him home to be part of our family. We renamed him Samson, but before long we settled on the name Junior. Our senior cat, Peewee, had zero interest in entertaining Junior. Thus, we had to find another kitten to be Junior's friend. Enter Gabriel.
We are careful to protect our cats from the dangers of the outside world. They are inside cats. However, in the last few months, Junior has decided he is an outside cat. He wants the freedom to chase lizards and to frolic in the grass. Every day he begs us to let him outside and since we are hesitant to do so, he does his best to escape. He runs out the door at every opportunity. He just doesn't understand that we are only trying to protect him.
After months of Junior mewling at the door and us chasing him down the sidewalk, John decided to buy him a harness. Go ahead and laugh. It is funny to see a cat on a leash! But again, we are only trying to protect him. We don't want him to get hit by a car or eaten by a big dog.
The interesting thing about our dilemma is that Junior's desire to be in the world is limited by his ability to be free under constraint. He hates the harness! It's obvious by the way he moves when wearing it. Instead of running about freely within the limits of the leash, he crouches low to the ground and moves slowly from point to point. It's almost painful to watch.
At first, I could not understand why Junior would want to be outside the protection of our house where he has room to run. He has everything he needs, including a playmate. Then I thought... maybe it's because he was an outside cat before the animal shelter became his home.
So here it comes… the spiritual application!
Every Christian has a before Jesus story. We know about the outside world and all it has to offer. God also knows the dangers we face, so he provides protection. Sadly, we sometimes mistake God's protection as a hindrance, and we try to live in the world without it. Because of this, we allow the constraints of our freedom to hold us back. Whether we like it or not, freedom always comes with boundaries.
Freedom without boundaries is anarchy and the definition of anarchy is the state of chaos due to the lack of authority. At this stage in my life, I am willing to live within the boundaries of God's love and authority so that I don't have to live in chaos. Therefore, I don't mind being harnessed by the constraint of freedom. There may still be a little trouble in my path, but thankfully, Jesus has overcome the world.
"In this world you will have trouble. But take heart! I have overcome the world."~ John 16:33b
Remember this, you are loved, and you are always in my prayers.
In Christ, Cheryl