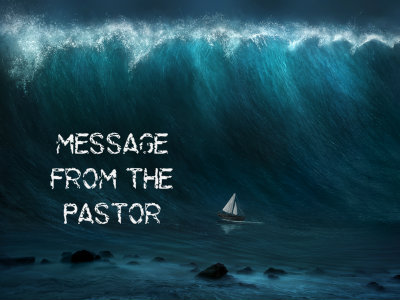 "But without faith, it is impossible to please Him…" Hebrews 11:6a
I don't want you to miss what wonderfully miraculous things have been happening here at FBC Seabrook. God is moving and is inviting us to respond in faith.
After two years of proposals and plans around our property, we find ourselves blessed! At one point we had actually voted to sell a portion of our property only to find out that we had based our decision on some information that wasn't correct. We scheduled a special business meeting and voted again, this time we unanimously voted to NOT sell.
The Wells Fargo property was listed for sale at a price far beyond our ability to meet. After many months, Wells Fargo reached out to us and offered us the property at a much better price. However, it was still out of our reach financially. We prayed. God responded. A donation was made for an amount that made it possible for us to buy the bank building and the acre it sits on! Praise God!
However, we now have a building that needs renovation before it can be occupied. Bids were sought and they came back higher than what we could afford. Then, at a business meeting last week, as we discussed how we were going to meet the need, God moved once again! A donation was made for an amount that will allow us to begin the renovation process! Praise God!
Right now FBC Seabrook has over 6 acres of land and 7 buildings all either being used or being prepared to use for God's glory and the gospel ministry! We are truly blessed.
Can we afford this financially? No. If we approach this with our physical eyes, we can't maintain all of this at our current income level. But why, after all, that God has done, would we approach this with anything less than faith? He has met every need and I am believing He will continue to do so! I may not be able to see it, but …
By faith Abel offered a more excellent sacrifice, by faith Enoch was taken away, by faith Noah moved with Godly fear, by faith Abraham obeyed, by faith Sarah conceived, by faith Abraham offered up Isaac, by faith Isaac blessed Jacob, by faith Jacob blessed each of Joseph's sons, by faith Joseph gave instructions concerning his bones, by faith Moses..., by faith the walls of Jericho fell, by faith Rahab did not perish! I don't have space to mention Gideon, and Barak and Samson and Jephthah and David and Samuel and the prophets….and the Christ-followers at FBC Seabrook who, even though they could not see it, by faith believed that God would provide!
Hebrews 11:1
Now faith is the substance of things hoped for, the evidence of things not seen!
Hebrews 11:6
But without faith, it is impossible to please Him, for he who comes to God must believe that he is and that He is a rewarder of those who diligently seek Him!
God is moving… and we're going with Him! Amen?
God bless, Pastor Rob