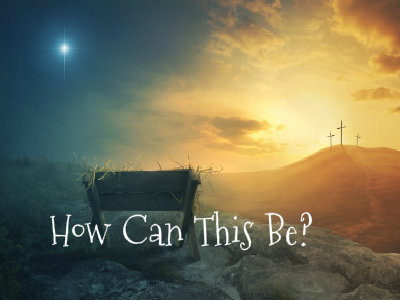 I often wonder what it was like for Mary when she realized God's divine call on her life. I imagine many questions came to mind, but Mary's first query really does say a lot... "How can this be?"
Obviously, Mary understood the impossibilities, because she was a virgin. But that didn't change the angel's message...
"Do not be afraid, Mary, you have found favor with God. You will be with child and give birth to a son, and you are to give him the name Jesus. He will be great and will be called the Son of the Most High. The Lord God will give him reign over the house of Jacob forever; his kingdom will never end." ~ Luke 1:30-33
And thus, the questions begin... "How can this be?"
~ That baby John leaped in Elizabeth's womb at Mary's greeting.
~ That Elizabeth knew Mary was pregnant.
~ That Zechariah's voice returned at the naming of John.
~ That Joseph took Mary to be his wife even though she was pregnant.
~ That Mary labored the birth of the King of Kings in a cave.
~ The... Angels, Shepherds, and Kings
~ The praise... "Glory to God in the Highest, and on earth peace to men on whom His favor rests."
When Mary and Joseph presented Jesus at the temple, they marveled at all that was said about Him. They did everything required of them by God, and Jesus grew and became strong; he was filled with wisdom, and the grace of God was upon him. ~ Luke 2:40
Through the years I imagine there were many more "How can this be?" moments, especially when the time came for Jesus to fulfill his purpose in this sinful, fallen world.
It begs the same question from us all... How can this be? That Jesus would die for me?
Hmmm, kind of reminds me of a song...
I'm forgiven because you were forsaken. I'm accepted, you were condemned.
I'm alive and well, Your Spirit is within me. Because You died and rose again.
Amazing Love... How can it be? That You, my King would die for me?
Amazing Love... I know it's true And it's my joy to honor you.
Remember this, you are loved, and you are always in my prayers.
In Christ, Cheryl
Lyrics – You are My King (Amazing Love); Billy James Foote; 1999