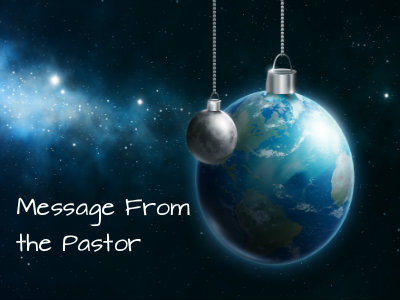 And the Word became flesh and dwelt among us, and we beheld His glory, the glory as of the only begotten of the Father, full of grace and truth.
The stores have been prepared for Christmas since Halloween. With just a quick nod to Thanksgiving we are barreling towards Christmas. Television networks have already published the schedule of all the Christmas Specials. The Hallmark Channel is already playing Christmas movies. I've heard some Christmas carols already being played and I know that beginning on Thanksgiving Day some stations will play Christmas music 24 hours a day until New Years. It would seem that we are more enamored with the build-up to Christmas and the trappings of the Season than we are with the actual reason for Christmas.
At our home we've simplified Christmas. Our Christmas decorations consist of a couple Nativity sets with sentimental value and a small table-top ornament tree adorned with ornaments that have special meaning to us. That's it. Oh…and Jesus!
Christmas is about Jesus. Christmas is about The Word (Jesus) becoming flesh (the Incarnation) and dwelling with us (Emmanuel).
Our church sent its first mission team to Senegal in Nov 2007. I was on that trip. Senegal is a 98% Muslim nation. You can imagine how surprised I was to see a billboard along the road with the words "Joyeux Noel" printed under a picture of Santa Claus riding a moped. "Joyeux Noel" is "Merry Christmas" in French. Can you also imagine how sad I was? Here was a Christ-less Christmas.
Gifts are wonderful. There was given to man ONE GIFT that is above every gift. One Gift that dwelled among us, whose glory was as of the only begotten of the Father, full of grace and truth. One gift that is the sole reason for Christmas…Jesus Christ! Have you received this gift? It's the only one that matters.
Happy New Year! 2019? Wow! 2018 was another awesome year for our church and I am so excited about the possibilities of 2019. We will see new mission fields open for us, new outreach efforts in our local community, more new believers and more baptisms! More Babies? Who knows! Of course, we're also going to see construction start on Hwy 146 and we will meet the challenges that present. This I know for sure, whatever is ahead for us in 2019, the Lord will remain Sovereign and we will persevere as long as we keep our eyes focused on Jesus!
Gerda and I are so blessed to be part of First Baptist Church of Seabrook!
Merry Christmas and Happy New Year!
Pastor Rob