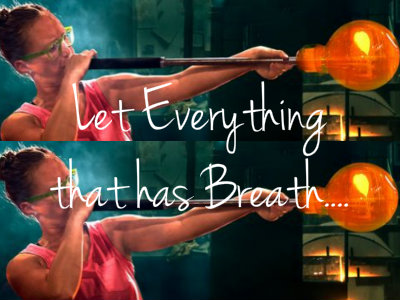 Last night I watched a program on Netflix called "Blown Away." It is a typical competition show with Glassblowers who compete for money and prizes. So far, I must say that this show is both informative and entertaining.
Each episode has specific project guidelines that must be followed by the competitors. Then the judges score their glass work based on the guidelines. Someone wins and someone goes home. So far, I've watched four episodes, and it's beyond me how the glassblowers can create such beautiful pieces with sand, chemistry, heat, and breath, along with a lot of molding and creativity.
The guidelines for one of the episodes was to create some form of food or something that had a purpose for food. The artists came up with various pieces, but I particularly liked the three-piece taco holder set. It was crystal clear glass and it had an obvious purpose.
The book of Genesis proves that our God is a creative creator, but just for fun let's take a closer look at Genesis 2:7...
"...the Lord God formed the man of dust from the ground and breathed into his nostrils the breath of life, and the man became a living creature."
The competitors on "Blown Away" made some beautiful creations with sand and breath, but if you dropped any one of those pieces on the ground they would shatter and no longer have a purpose.
God formed us from the dust of the earth and then breathed life into us. Let us never forget that He created us with a purpose...
" For by grace you have been saved through faith. And this is not your own doing; it is the gift of God, not a result of works, so that no one may boast. For we are his workmanship, created in Christ Jesus for good works, which God prepared beforehand, that we should walk in them." ~ Ephesians 2:8-10.
God has a purpose for us, and He makes sure we have everything we need to fulfill His purpose...
"His divine power has given us everything required for life and godliness through the knowledge of him who called us by his own glory and goodness." ~ 2 Peter 1:3.
How blessed we are that we have a creative creator who gives us purpose!
"Let everything that has breath praise the Lord. Praise the Lord." ~ Psalm 150:6
Remember this, you are loved, and you are always in my prayers!
In Christ, Cheryl