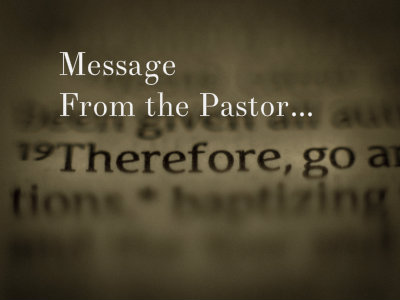 Matthew 20:28 (NKJV) -- "Just as the Son of Man did not come to be served, but to serve, and to give His life a ransom for many."
Matthew 23:11 (NKJV) -- "But he who is greatest among you shall be your servant."
We are blessed to have so many folks in our church with servant hearts. It is what enables us to do so many different things. Without the servants in the church, we could do nothing. Without the servants in the church, we would have no witness.
Our benevolence department provides food and funds to those in need. Servant hearts give their time and energy to manage the ministry and maintain the Food Closet. Many people in our community who need help would not receive help if there weren't servant hearts in our church.
Our biggest local witness is VBS. It takes many servant hearts to make VBS possible. I came to know Jesus as my personal savior at a VBS. If it weren't for the servant hearts in the church, someone might miss salvation!
A group of servants, just last week, ran a very successful Garage Sale Mission Fundraiser! Thank you!
The primary servants (but certainly no all!) in that endeavor were our Deacons. Our Deacons, by definition, are servants. I am thankful for them. Please join me in praying for our Deacons.
Unfortunately, the clear message of Servant-hood in the New Testament has not yet made it to the hearts of some folks. It is my prayer that EVERYONE in the church be a servant! There are a few trying to do everything, when what really is needed is EVERYBODY doing something!
May is the calm before the storm, so to speak. After the business of April, we have the month of May to prepare ourselves for the summer. Our summer this year includes VBS, An Everybody Bible Study, Mission trip to Darrington, Washington, perhaps another mission trip somewhere in Texas, and more!
Let's take advantage of this time and seek God's face in prayer. Let's allow the Spirit to guide us in our Servant-hood. Let's pray for our witness, the sharing of the Gospel and the Glory of God in all we do this summer!
God bless,
Pastor Rob